Difference taffeta and pongee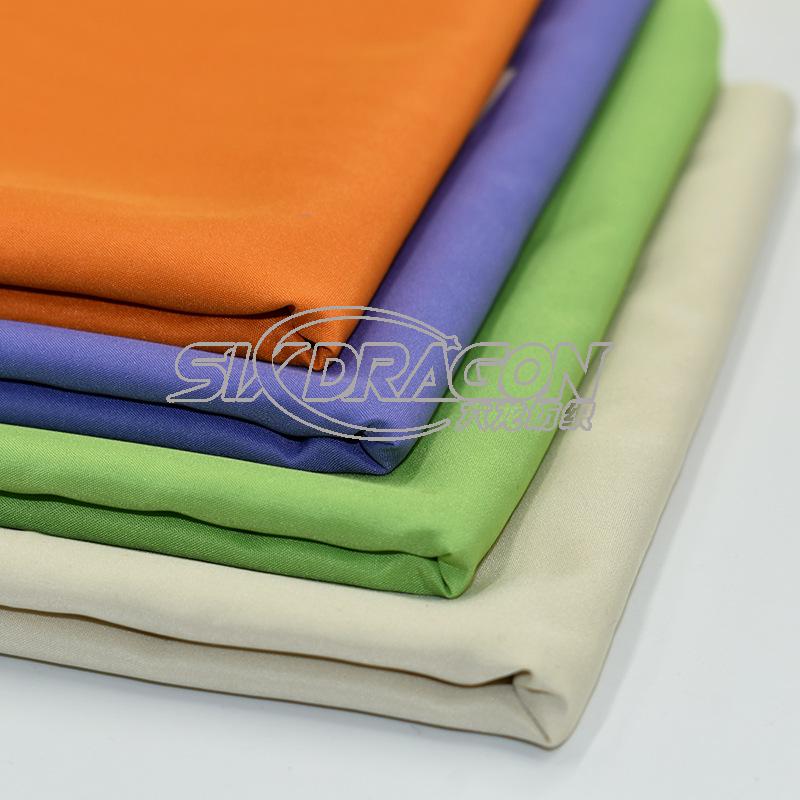 For friends who have just started working in the textile industry, it can be difficult to distinguish between polyester taffeta and chiffon. However, if you remember the characteristics of these two fabrics, it is not difficult to differentiate between them.
Polyester taffeta, also known as taffeta silk, is a type of polyester fabric made from polyester filament yarns. It has a shiny appearance and smooth texture. It can be used as both outer fabric and lining material, although it is mostly used as lining material nowadays. It comes in various specifications such as 190T, 210T, and 230T. Polyester taffeta is made from FDY (fully drawn yarn or filament yarn) and is processed through dyeing, printing, embossing, coating, and other treatments to give it a lightweight texture, durability, ease of washing, and affordability. It is often used as lining material for various types of clothing and luggage due to its smooth texture, non-sticky feel, bright and vibrant colors, and resistance to wrinkles. The individual filaments are uniform in thickness and are not easily broken.
Chiffon, also a type of polyester fabric, shares some of the characteristics of polyester taffeta, such as a flat and smooth surface, lightweight and durable texture, good elasticity and gloss, non-shrinking, easy to wash and quick-drying, and excellent hand feel. However, polyester taffeta is generally used as a lining material, while chiffon is used as outer fabric. Chiffon is made from DTY (draw textured yarn or stretch yarn), which is modified from the warp or weft of polyester taffeta, making it softer and more comfortable to the touch. However, its luster is not as dazzling as that of polyester taffeta.
When we receive a piece of fabric, we can first examine its pattern. Both chiffon and polyester taffeta are woven using a plain weave, which is the simplest fabric weave. It is made by weaving the warp and weft threads together in a one-over-one-under pattern. Fabrics with satin weave or other weaves have obvious differences between their front and back sides, and their patterns and brightness are different. However, the front and back sides of plain weave chiffon and polyester taffeta do not have obvious differences.
After determining whether the fabric is polyester taffeta or chiffon, we can further examine its texture. Polyester taffeta is stiffer and less smooth to the touch, while chiffon is less shiny than polyester taffeta. In terms of price, under the same conditions, chiffon is generally more expensive than polyester taffeta. With these characteristics in mind, as long as you observe and practice more, it will soon become easy to distinguish between these two fabrics.
In addition to their use as clothing and luggage materials, both polyester taffeta and chiffon can also be used in other applications. For example, they can be used as curtain fabrics, tablecloths, and decoration materials. They are widely used in the textile industry due to their lightness, durability, easy maintenance, and affordability. As the textile industry continues to evolve, new fabrics and materials are constantly being developed, but polyester taffeta and chiffon remain popular choices due to their versatility and practicality.
In conclusion, knowing the characteristics of different fabrics is essential for anyone working in the textile industry, and polyester taffeta and chiffon are no exception. By understanding the differences between these two fabrics, it is possible to choose the right material for each application and create high-quality textile products.
Mr Jack(GM)
We woven fabrics manufacturer from china over 16 years,we weave/dye/print ourselves.
Any woven fabrics inquiries please contact us ,we supply one-stop full series woven fabrics service.
Mob/whatsapp/wechat:+8615988150362
Mail: director@sixdragontextile.com
Hangzhou Six Dragon Textile Co.,ltd
http://www.sixdragontextile.com